Stage Manager on iPad is too important to be wrong
With iPadOS 16 and macOS Ventura threatening to arrive later this month, we're on the verge of one of the biggest new features added to iPad and Mac in recent years: Stage Manager.
For Mac users, Stage Manager is an optional feature that may or may not improve productivity and organization. Not serious ! Use it or not. Meanwhile, for the iPad, functionality is practically an existential crisis.
Simply put, Stage Manager is a big deal for the iPad because it gives it windows for the first time, while the Mac has been a window-based computing device since Steve Jobs first took it out of that bag in early 1984. And that contrast goes to the heart of why putting Stage Manager on the iPad is a much bigger job than adding it to the Mac.
From the ground
Anyone who used the Mac in 1984 and was magically transported to a Mac in 2022 would certainly be amazed and bewildered by the advancements in technology in 38 years, but this Mac would still be recognizable: moveable and resizable windows, a menus, and even a closed box (joined by two others) in the upper left corner.
Foundry
Of course, over the years Mac windowing has evolved. When I became a Mac user, you couldn't really use multiple Mac applications at once. But soon after, System 7 introduced full multitasking and our Mac screens filled with windows of all sorts of different apps running at the same time. Apple introduced a series of task switchers, Mac OS X 10.0 added the Dock and three stoplight buttons, and later updates added the ability to manage windows with Exposé, Spaces, and Mission Control.
In other words, Apple took a concept – the original Mac interface – and then iterated on it for 38 years. It's not perfect – notably, the company has spent a few decades trying to find ways for regular users to find windows that have been lost behind other windows – but there's a real infrastructure behind it. It's a metaphor that's been extended and elaborated with iconography, menu bar commands, keyboard shortcuts, trackpad gestures – the works.
The iPad has been around for over a decade, but its history with windowing is virtually non-existent. iPadOS 15 introduced Quick Note and the "floating middle window" to apps like Mail – they were windows, of sorts, but unique windows that followed their own rules. Yet it was only a hesitant start. But beyond that, there's really nothing to define what a window on an iPad might be, how it should behave, and how a user would handle a bunch of them.
MacOS Ventura will therefore bring Stage Manager to the Mac, where it will mix and manage familiar windows in new ways. It's not nothing, but it can take advantage of 38 years of infrastructure and interface grammar.
On the iPad, however, Stage Manager literally has to create a whole new windowing metaphor, out of all the fabric, on day one. It's a huge job. Is it any wonder that all summer Apple apparently struggled with this?
An iPad Identity Crisis
Let's rewind for a moment: what problem on the iPad Stage Manager is it supposed to solve? It's supposed to be the inability for users to quickly work with multiple windows and multiple applications, like they do on the Mac. The bigger your screen – and my iPad Pro's screen is only smaller than my MacBook Air's – the more space you have for more windows, and more interface for one or two apps at a time of the iPad becomes ridiculous.
The problem with the current iPad approach to multitasking, Split View, is that it starts to break down when you want to use more than two "windows" (they're really tiles) at once. While tiled interfaces are incredibly space efficient – there's no need for window chrome! – they are also quite rigid. I'm trying to imagine creating a four-pane view on my iPad Pro, and I'm imagining a frustrating puzzle. I know tiling has its supporters, but I'm not one of them.
Windows, on the other hand, is proven and has many advantages. Although they require a lot of space-consuming window chrome, they have the advantage of overlapping. Long-time Mac users might not even notice they're doing this, but the beauty of overlapping windows is that you can have multiple documents at your fingertips while one particular document is in the foreground. It's an efficient use of space because the contents of every open window don't need to be displayed on the screen at the same time.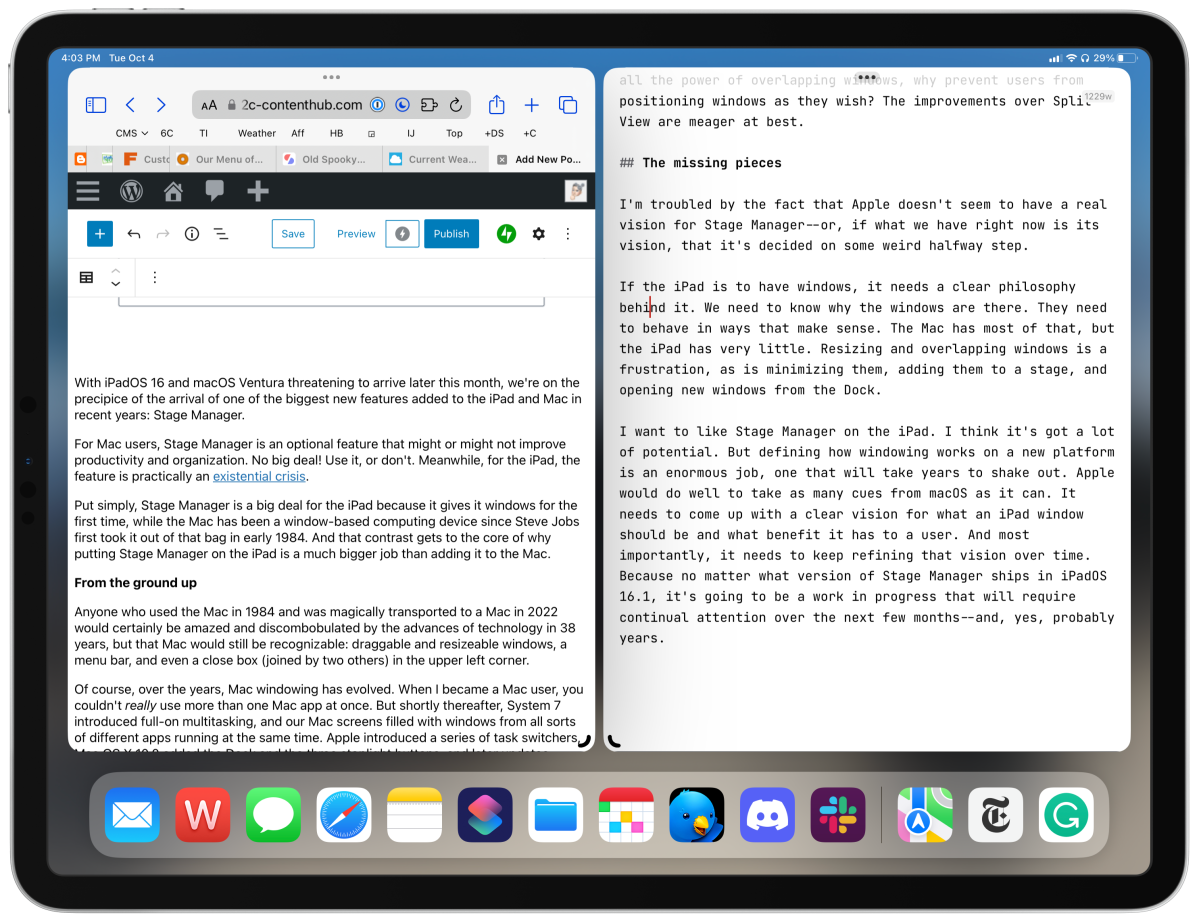 Jason Snell
The problem with iPadOS 16's Scene Manager is that it can't decide what it wants to be. It offers windows, so you'd think it would have decided to lean towards the Mac style of doing things. But one of the best features of windows is that they can be arbitrarily resized and moved, a feature that Stage Manager resists. iPad windows can only be opened in certain sizes and shapes, and most frustratingly, they can only be dragged in certain places.
When I try to use Stage Manager on my iPad Pro, I end up with almost one configuration: two windows, more or less equal in size, next to each other. I'm so frustrated with Stage Manager that I'm basically recreating Split View! (In fact, if you position two windows this way and disable Stage Manager, it literally turns into split view.)
I can't explain why Apple chose this hybrid approach, but I can't say it makes sense to me. If the goal is to provide the full power of overlapping windows, why prevent users from positioning windows as they wish? So the improvements over Split View are meager at best.
The missing pieces
I'm troubled that Apple doesn't seem to have a real vision for Stage Manager – or, if what we have right now is its vision, that it's decided on an odd halfway step.
If the iPad is going to have windows, it needs a clear philosophy behind it. We need to know why the windows are there. They should behave sensibly. The Mac has most of that, but the iPad has very little. Resizing and overlapping windows are a frustration, as are minimizing them, adding them to a scene, and opening new windows from the Dock.
I want to like Stage Manager on iPad. I think he has a lot of potential. But defining how windowing works on a new platform is a massive job, one that will take years to shake off. Apple would do well to take inspiration from macOS as much as possible. It must offer a clear vision of what an iPad window should be and its advantages for a user. And above all, it must continue to refine this vision over time. Because whichever version of Stage Manager ships in iPadOS 16.1, it will be a work in progress that will require continued attention over the next few months – and, yes, probably years.