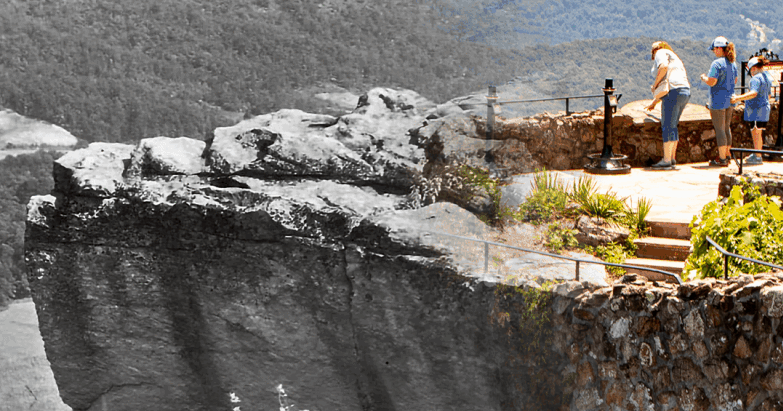 Rock City turns 90 | Outside
LOOKOUT MOUNTAIN, Georgia – Rock City Gardens recently celebrated its 90th anniversary with guests entering through the original rotunda gate as they did in 1932, as well as nostalgic surprises and new artistic features to discover along the enchanted path .
For 90 years, Rock City has been a leader in innovation, beginning with its founder, Garnet Carter. He not only imagined his wife Frieda's rock garden as something others would want to see, but created the Tom Thumb mini-golf course, as well as the advertising legacy of more than 900 painted barns across the United States. United with the message "See Rock City".
Rock City has planned a series of improvements throughout the year, with four key cornerstones highlighting the attraction's historic leadership while guiding the way forward: innovation, sustainability, artistry and people.
"It's an exciting time for all of us here in Rock City, 90 years since Uncle Garnet and Aunt Frieda opened the doors to this beautiful place," said See Rock City President and CEO. Inc., Doug Chapin. "It has been humbling to look back on the history of Rock City to see the work that Garnet, Frieda, Big Ed (my grandfather) and my father have done for SRC, these people and our community. Looking back, we clearly saw the four cornerstones of our business: innovation, craftsmanship, sustainability and, most importantly, people. It is inspiring to have such a strong foundation to build on as we look to the future and how our business continues to evolve and grow. We know that we will continue to use this legacy to drive forward and innovate, as we seek to create memories worth repeating for our customers and partners. in a new and different way,
Sustainability was also at the heart of the attraction, with plants and flowers growing in their natural habitat, in the more modern era of using solar panels to harness the sun's energy.
Artistic inspiration in the gardens also dates back to the early days of Rock City, with Frieda's creation of Fairyland Caverns and Mother Goose Village.
Over the past few months there has been a reimagining of the whimsical pathways defined by the original masonry and glasswork, an intricately carved stone troll, and magical portals to the next enchantment. Then, at the heart of Rock City's legacy is its fundamental mission with an ultimate focus on people, to create memories worth repeating for all who encounter this geological wonder.
Rock City's latest artistic innovation, the Hall of the Mountain King project, combines nature and magic while building on the original folklore Frieda loved.
Several local artists continue to collaborate with the Rock City Innovation Team to use a variety of materials and mediums to bring a new level of enchantment to the gardens.
The final phase of the project features Ibsen the Troll, a larger-than-life figurative sculpture created by the attraction's Senior Director of Innovation, Will Jackson. Ibsen and the caverns he inhabits are inspired by the classic play "In the Hall of the Mountain King" by composer Edvard Grieg, as well as Henrik Ibsen's play Peer Gynt.
Rainbow Hall is another recently reimagined space with one-of-a-kind windows with custom-made steel faceted frames, by metal artist Michael Brandt. This innovative design by Will Jackson houses unique glass sculptures by artist Chris Mosey of iGNiS Glass Studio in Chattanooga. Rainbow Hall's colorful views continue to be a highlight for visitors. For up-to-date information on 90th anniversary plans, visit www.seerockcity.com/90.
Rock City offers a full lineup of annual events, with summer music weekends Friday through Sunday through Labor Day. Stroll to live music, watch birds of prey soar overhead in Critter Classroom, and sample delicious Southern fare at Cafe 7. A new artist at this event is Rick Rushing playing blues, as well as returning performances from longtime musician Matt Downer, folk-rock music from the Highbeams and bluegrass tunes from artist Tarryn Aimee Smith.
Go to www.seerockcity.com/summermusic for more information.